At the edge of Staufen's town centre, a former potter's house remains as the only example of the city's pottery tradition stretching back to the Middle Ages. Potter Josef Maier and artistic ceramist Egon Bregger once lived and worked here. The building has been a museum since 1991, preserving the workshop with clay pit, potter's wheel and two wood-burning kilns which are under protection of historical monuments.

Josef Maier (1871–1948) began by producing tableware for everyday use in country arears. As handmade pottery was replaced by industrially produced goods in many locations, Maier developed a colourful style of ceramics decorated with traditional sayings – capturing the attention of a local group of customers who wanted to express their pride in their home region.

After Maier's death, his son-in-law Egon Bregger (1902–1966) maintained the workshop. The craft business developed into a place of artistic and technical experimentation experimental laboratory. Bregger – trained at the Bauhaus by Otto Lindig – produced valuable one-of-a-kind pieces. His vases and bowls impressive ceramic artworks of the 20th century.

Ostensibly colourful and cheerful, upon closer examination clay figurines by artist Elisabeth Winter-Bonn (1919–2003) also appear strange and lonely. With a cheeky attitude, some address human weakness, while others carry clear socially critical messages.

The Badisches Landesmuseum puts on special annual exhibitions from its extensive ceramic collections. The Förderkreis Keramikmuseum Staufen e.V. holds its own exhibitions in the STUDIO with regional, national and international artists and ceramists.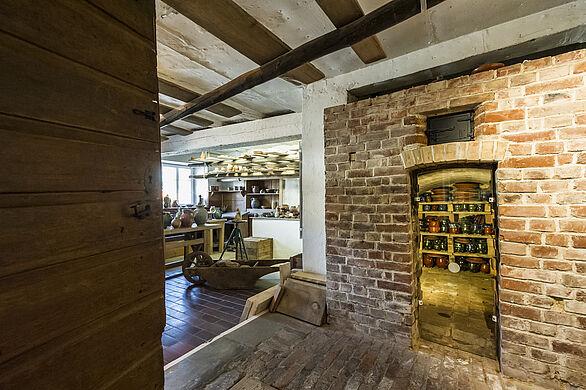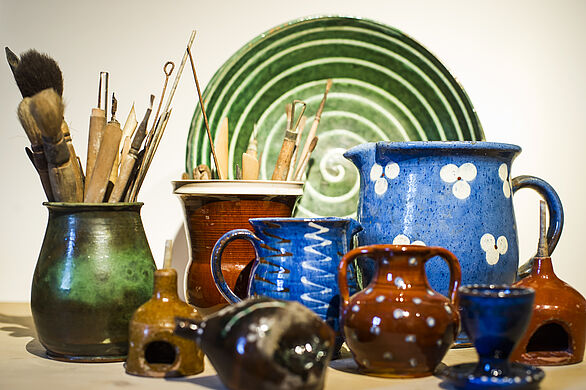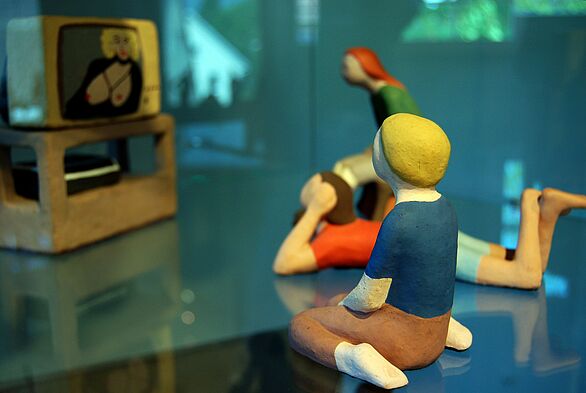 1/3
Blick in die originalgetreue Hafnerwerkstatt © Badisches Landesmuseum, Foto: Schoenen
2/3
Keramiken von Josef Maier © Badisches Landesmuseum, Foto: Schoenen
3/3
Figurengruppe, Elisabeth Winter-Bonn © Badisches Landesmuseum
Staufen Ceramics Museum
Wettelbrunner Str. 3
79219 Staufen i. Brsg.

T +49 (0)7633 6721
Send an e-mail
Your contact
Dr. Joanna Flawia Figiel
Referat Kunst-und Kulturgeschichte, Kuratorin Angewandte Kunst 1850-1945, Keramikmuseum Staufen, Museum in der Majolika
Send an e-mail
The locations of the Badisches Landesmuseum