On our social media channels, we tell our community what's new with us every day. We show highlights from the exhibitions and collections as well as objects that may not seem particularly interesting at first glance, but then reveal a rich treasure trove of stories. We also report on current developments from ongoing projects, and from time to time we also get to look over the shoulders of our conservators. Follow us and don't miss any news!

Are you a blogger or online multiplier? Feel free to contact us anytime with questions, concerns and ideas. We are looking forward to the exchange and possibilities of cooperation. We will gladly add you to our mailing list and inform you about our social events like Instawalks and TweetUps.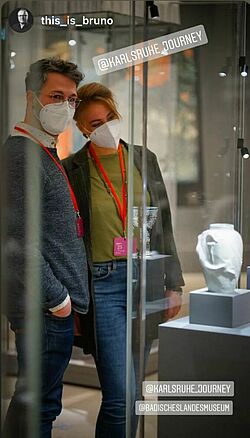 We are always happy to receive tags and links from you, e.g. with #BadischesLandesmuseum. We also organize a social preview for our special exhibitions and accompany them with our own hashtag, which you are welcome to use. Here we have linked you to the posts from Instagram.