Palace and Court
The Throne Room – new presentation
The newly designed exhibit Palace and Court: The Throne Room – new presentation on the ground floor of the Karlsruhe Residence presents the recently restored throne ensemble of the Grand Dukes of Baden, arranged according to historical example. Going beyond this, the crown insignias, a portrait gallery and a model of the baroque planned city of Karlsruhe give insight into the residence and its occupants.
The arrangement of the throne ensemble, consisting of several objects, is the focus of the exhibit. It dates from the year 1838, when Grand Duke Leopold (1790–1852) had the throne room, located on the upper floor of the east part of the main building, redecorated. Thereby he maintained the Empire Style of the early 19th century, which was de rigueur for official rooms. The ensemble, in red, gold and white, is covered by a baldachin, with tabourets (stools) and gueridons (stands) for candle holders and braziers completing the furnishings.
A highlight of the new exhibit comprises the crown insignias, consisting of the crown, scepter and sword of Baden, which was elevated to a Grand Duchy in 1806, in which the power and splendor of ducal rule developed. The Karlsruhe Schloss served as the Residence from the founding of the city to the end of World War I. Portraits of 14 dukes and duchesses over several generations bring them closer to the viewer as individual people. The representative works were created in part by contemporary artists like Philipp Heinrich Kisling, Joseph Melling, Johann Heinrich von Dannecker or Franz Xaver Winterhalter. They illustrate a combination of history, fashion and cultural change over a period of about 200 years.

The large city model presents Karlsruhe as a planned baroque city. The architectural focus is the palace, or more accurately the palace tower, from which 32 paths radiate in all directions.
Visit the first floor, too: There the exhibit Palace and Court: Life in the Residence depicts court life of the Margraves and Grand Dukes of Baden over about 200 years, using objects of historical equipment and furnishings. Read more here.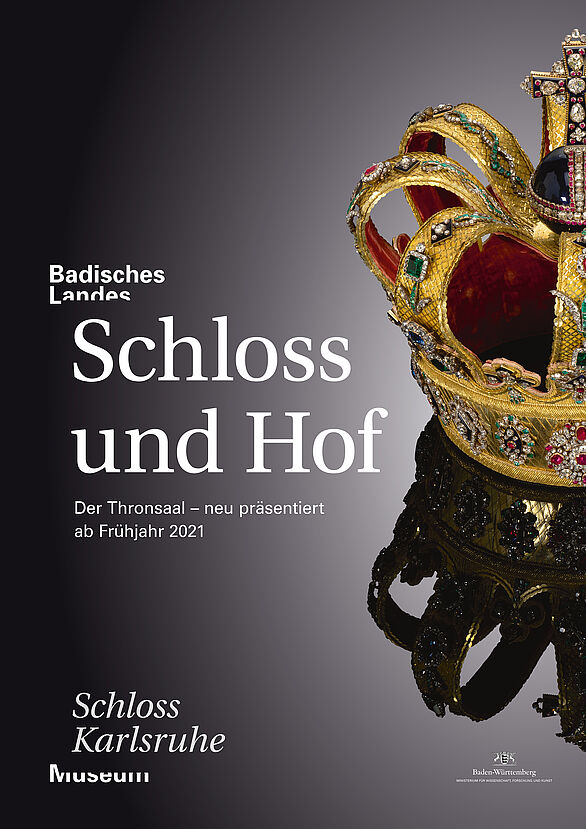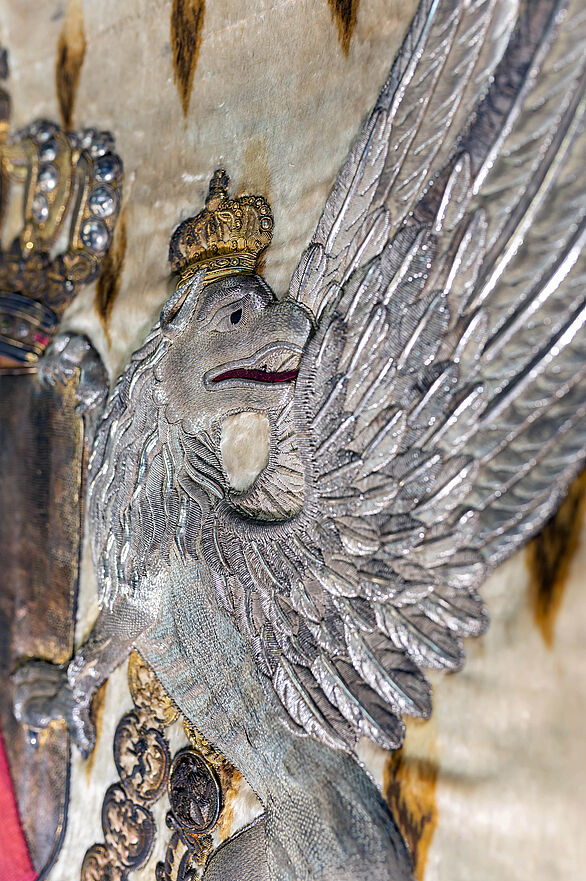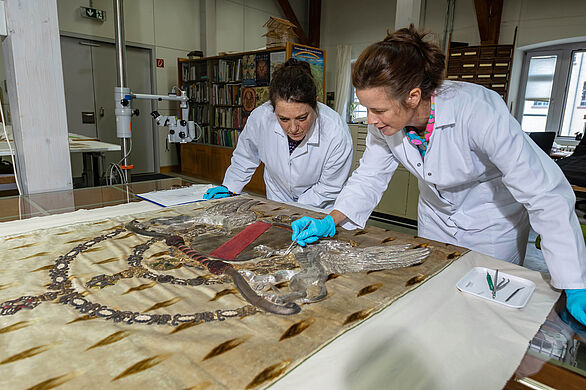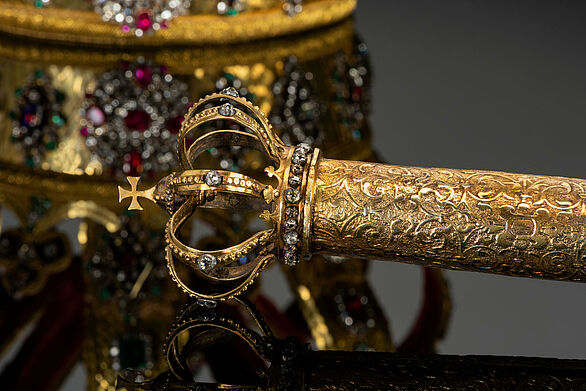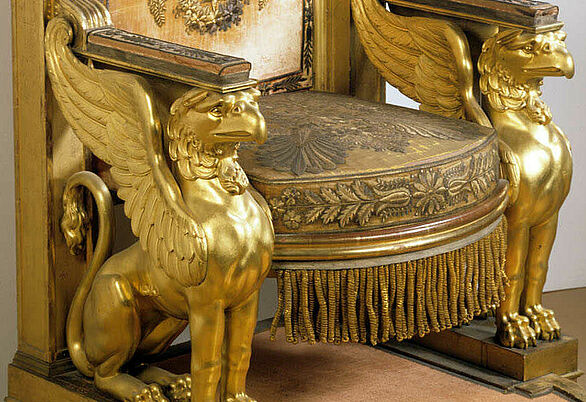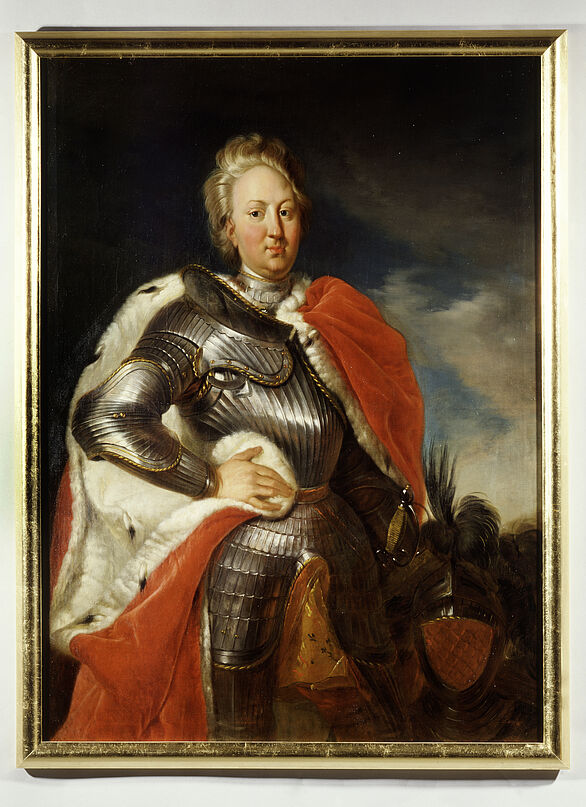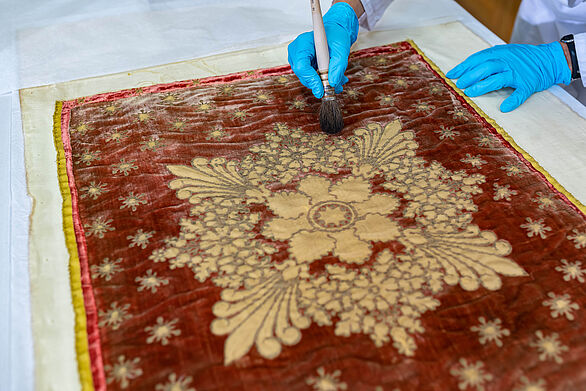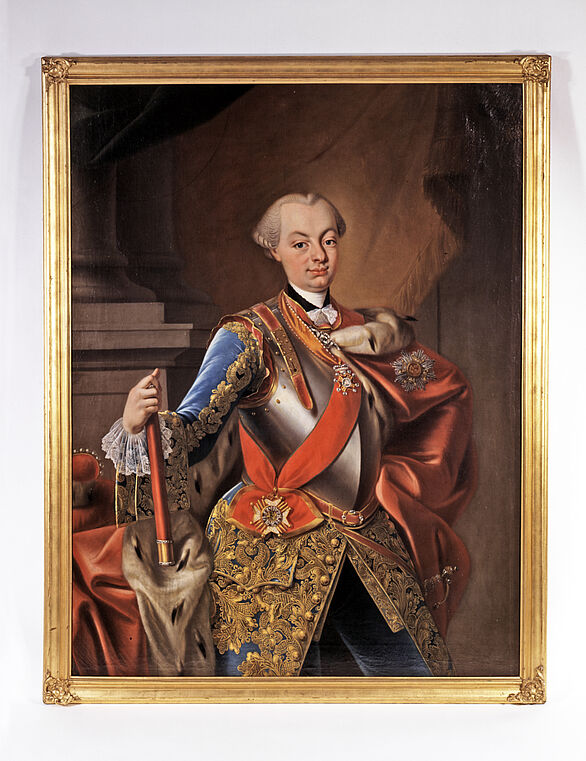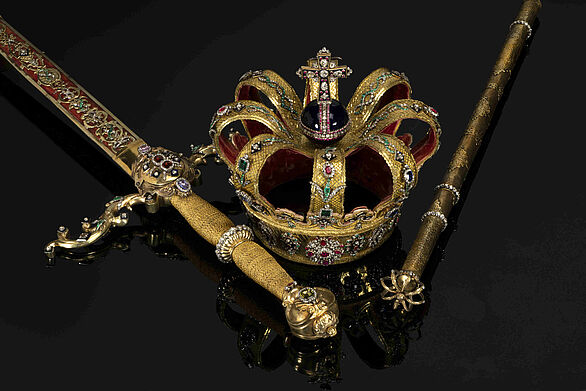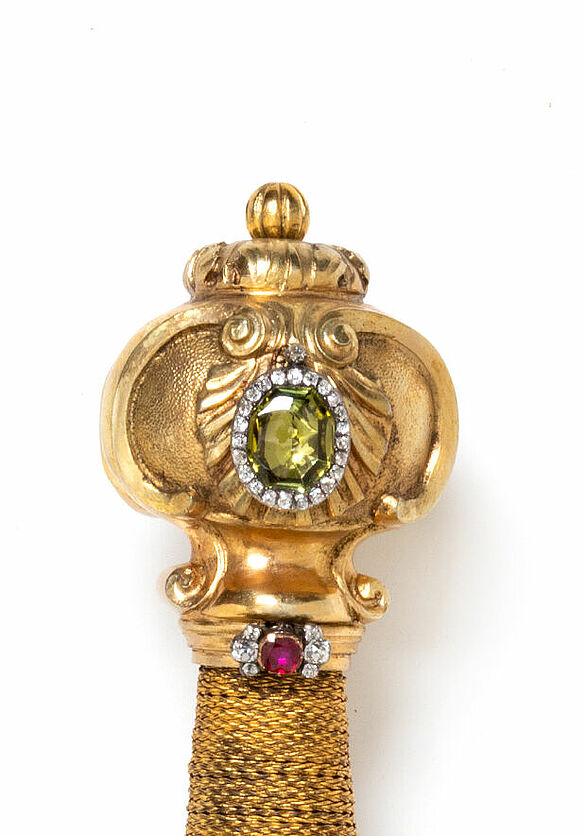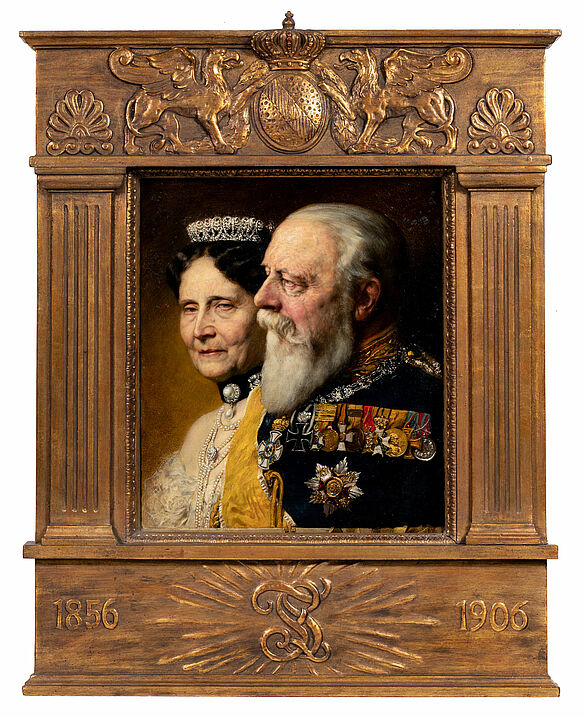 1/12
Poster "Palace and Court: The Throne Room - new presentation", © Badisches Landesmuseum, Schlosser/Gaul
2/12
Detail of the coat of arms on the throne: the heraldic animal of Baden, the griffin, as a shield holder for the throne canopy, © Badisches Landesmuseum, Photo: ARTIS - Uli Deck
3/12
Grand ducal crown of Baden, Karlsruhe 1811, © Badisches Landesmuseum, Photo: Schoenen
4/12
View of the restoration workshop: appraisal of the throne canopy, © Badisches Landesmuseum, Photo: ARTIS - Uli Deck
5/12
Scepter Bartholomäus (Bartsch) Igell the Elder Ä. Kronstadt / Transylvania, around 1625 Revision: Karlsruhe, 1811 Silver, gilded; Wooden stick, diamonds, © Badisches Landesmuseum, Photo: Gaul
6/12
Detail of the Baden throne chair, Greifen, Karlsruhe, around 1838, © Badisches Landesmuseum
7/12
Markgrave Karl Wilhelm of Baden-Durlach, probably Johann Ludwig Kisling, around 1775, oil on canvas, © Badisches Landesmuseum, Photo: Goldschmidt
8/12
View of the restoration workshop, stool upholstery, Throne ensemble, © Badisches Landesmuseum, Photo: ARTIS - Uli Deck
9/12
Markgrave Karl Friedrich of Baden-Durlach, probably Philipp Heinrich Kisling, around 1750, oil on canvas, © Badisches Landesmuseum, Photo: Goldschmidt
10/12
Grand Ducal Baden crown, scepter and ceremonial sword, Karlsruhe 1811, © Badisches Landesmuseum, Photo: Gaul
11/12
Ceremonial sword, Johannes Biller, Augsburg, 1729/1730 Revision: Karlsruhe 1811 Silver, gilded; Steel, partially gold-plated; Diamonds, precious stones © Badisches Landesmuseum, Photo: Gaul
12/12
Grand Duke couple Friedrich I. & Luise von Baden, Ferdinand Keller, 1906, oil on cardboard, © Badisches Landesmuseum, Photo: Gaul